The flagpoles that we sell are made of aluminum and have a vinyl cap on both sides.
The flagpoles are 183 cm long and can be shortened by yourself if desired.
You can remove the vinyl cap for this and shorten the pole with a hacksaw.
For shipping in the Netherlands, our carrier charges € 8.00 extra (due to the length), which we will charge on a separate invoice.
For shipping outside the Netherlands please contact info@guardequipment.nl
You will receive a separate invoice for the cost.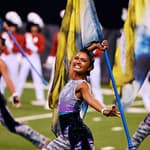 Applications
By taping the flagpoles with vinyl tape, a completely different effect is created.
You can adapt the tape to the color of the flag, or use a completely different color so the flag / pole stands out.